A
cer UT220HQL touch screen: 21.5"
Dell P2418H touch screen: 24"
---
What's better than a printer in your kitchen?
An 18" tablet is better than a printer ever can be.
A tablet is also

a 2-way video communication system between your service staff and your kitchen staff

!
ViewTouch supports up to 4 kitchen video displays.
Check out the new Samsung 18" tablet.

Select this button to see ViewTouch high definition Kitchen Video.


---
Do you prefer multiple display support in your office so you can get full use of your workstation by running 'Back of the House' apps simultaneously with PoS? Do you prefer maximum processing power and storage speed in a contemporary form factor?


Choose an Intel NUC which best suits your requirements.
See the latest Intel NUC specs here.

For

the Fastest Storage

,

NVMe SSD supports the Intel NUC's PCI Express® Gen 3 x4 lanes, providing higher bandwidth and lower latency than SATA SSDs. The 950 PRO is ideal for your PoS workstation.



Samsung's
V-NAND process
in the M.2 form factor claims sequential read of 2,500MBps and sequential write of 1,500MBps.
A tremendous value: 256 GB and 512 GB.
---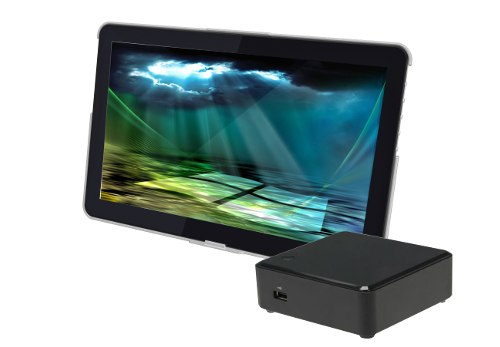 A smaller High Definition touch screen display

Gechic 1303H touch screen: 13.3"
1920x1080 pixels






---
Po
stScript Receipt Printers from
Bixolon
include PostScript Page Description files. PPDs describe a printer's features and capabilities, function as drivers and provide a unified interface for the printer's capabilities and features.
There are many models with many interface options to choose from; we advise you to contact us to ensure that you get the most suitable model for your situation, and at the best price, too.